An another source of natural light is Reflected light, which can be defined as light reflected from natural and man made surfaces.
.
The sun illuminates surfaces, creating secondary sources of light. Light-colored surfaces reflecting sunlight are typically the second-brightest sources of light in the environment. On a sunny day they can be dominant light sources in the field of view.
.
Reflected sunlight is normally is more diffuse than direct light, reflected sunlight may be less intense and maybe have a different color or direction. The qualities of reflected sunlight are largely dependent on properties of the reflecting material.
Reflected light effects architecture in two very distinctive ways, it can be studied as reflectance on horizontal and vertical surfaces.
.
Horizontal reflected light is most abundant on the sunny sides of buildings. Light reflected from horizontals surface such as un shaded light colored ground cover can be significant source of natural light, especially in low buildings.
.
In tall buildings, a much greater extent of sunny foreground is required. Light may also be reflected from horizontal surfaces attached to or integral with the building facade. Examples are wide sills or light shelves. Even small amount of horizontal surfaces receive greatest solar impact at high sun angles.
.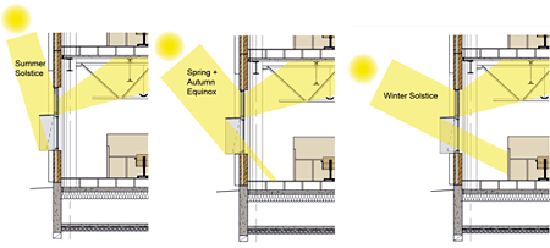 .
Vertical reflected light is most abundant on the shady side of buildings, where light is reflected from unshaded light-colored walls or facades of adjacent buildings in the sun. vertical surfaces receive their greatest solar impact at low sun angles, such as in winter time and at high latitudes. Light reflected from vertical surfaces is often relatively horizontal  and may be a source of glare. For this reason, luminous surfaces should be of visual interest or locate openings above eye level.
.
Good interior lighting can simply be defined as lighting that enables people to perform visual tasks and to be comfortable while performing them. Daylighting design is inseparable from electric lighting design and must consider issues such as:  Brightness balance, Distribution of light in space and time (time of day and season), Appropriateness of illumination levels , Energy saving techniques.
For interior spaces in which sunlight and daylight are an integral part of the luminous environment, special care must be taken early in the design process to ensure proper orientation, massing, space planning, and sizing and shaping of apertures, since these early decisions will have the biggest effects on the overall building performance.
.
Follow us on our next article "Sources of Natural Light; Sunlighting Strategies".